US aircraft carrier arrives in Manila for port call
MANILA, Philippines — Nuclear-powered US aircraft carrier USS Ronald Reagan (CVN 76) and its accompanying ships arrived in Manila on Wednesday for a routine port call after patrolling the South China Sea.
Accompanying the aircraft carrier are the Ticonderoga class guided-missile cruisers USS Antietam (CG 54) and USS Chancellorsville (CG 62).
The ships visit the Philippines as China continues to try to expand its influence in the region. This is the first visit of a US aircraft carrier to Manila after more than a year.
In 2018, three US aircraft carriers visited the Philippines in a span of six months.
"This port call is a direct reflection of the longstanding relationship between the U.S. and the Philippines and underscores our strong support to peace and stability in the Indo-Pacific region," said Rear Admiral Karl Thomas, Commander of Task Force 70.
The US Embassy invited journalists on board the vessel, which was packed with dozens of aircraft and sailors who were about to go on a break for a few days.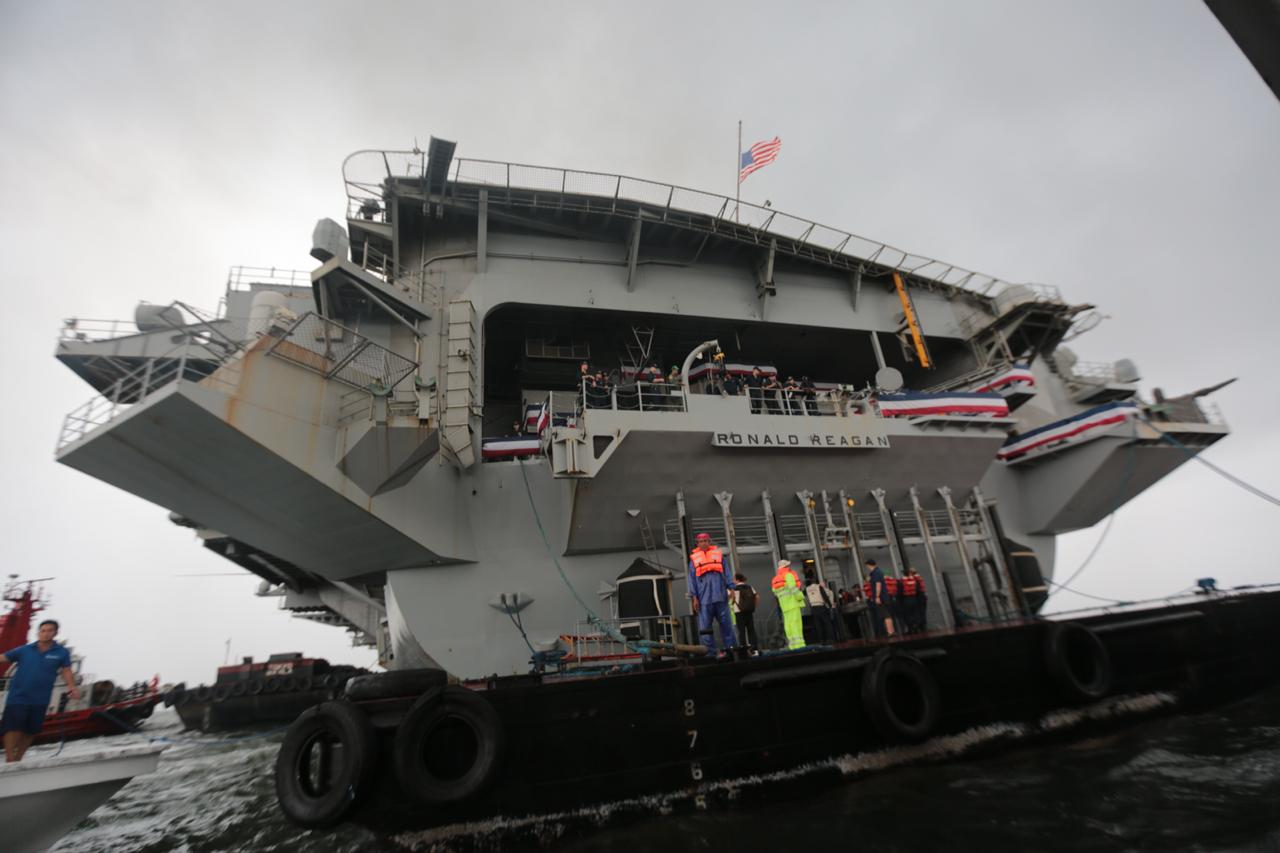 The USS Ronald Reagan, an American aircraft carrier, docks in Philippine waters for a port call on Wednesday. The Reagan, a Nimitz-class aircraft carrier, is the only aircraft carrier that is forward deployed to the Indo-Pacific. – INQUIRER/Grig C. Montegrande
Before its Manila visit, the USS Ronald Reagan sailed through the South China Sea on Tuesday in the latest show of America's military might amid new territorial flare-ups involving China and three rival claimant states.
China, Vietnam, the Philippines, Malaysia, Taiwan, and Brunei have been locked in on-and-off territorial conflicts over the strategic waters, where a bulk of Asian and world commerce transits, for decades. Tensions rose to new highs when China transformed seven disputed reefs in the Spratly chain into islands and then installed a missile-defense system, runways, and hangars.
Last month, Washington expressed concerns over China's "repeated provocative actions aimed at the offshore oil and gas development of other claimant states."
Vietnam has demanded that China remove a survey ship from Vanguard Bank, which it said lies within Vietnam's 200-mile exclusive economic zone. China has had a dispute with Malaysia over Luconia Shoal, and Manila protested after a Chinese fishing vessel hit a fishing boat with 22 Filipinos at Reed Bank and left as it sank at night in June. The Filipinos were rescued by a Vietnamese fishing vessel. With reports from AP